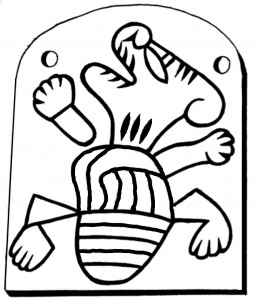 Found at Hacienda de Leon 5m N.W. of Mexico City
Figure that of a dragon – crude
Materials: volcanic rock
Size 18 centimeters long 14 wide and 6 thick
Colors: Red and Yellow
Found at a depth of 13 feet from the surface
Niven calls this figure a dragon. It looks like it more than anything else.
The spear end of the tail and spokes along the ridge warrants Niven's deduction.
It is not symbolic in any way, except as a scare crow, to frighten the wicked, and this is pure theory.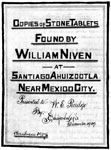 From Copies of Stone Tablets Found By William Niven at Santiago Ahuizoctla Near Mexico City
page 19-20